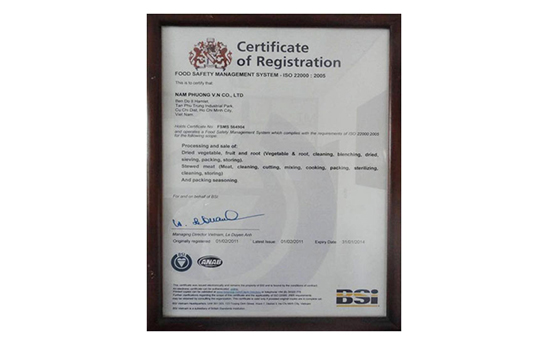 On 01/02/2011 Nam Phuong VN Co., Ltd was officially achieved ISO 22000: 2005 Food safety & Hygiene Management Standard Certificate. This is an honor certificate issued by the British Standards Institute (BSI) after pass many testings and evaluation
Nam Phuong has developed and applied this management program for all production and processing activities. As a result, the company's products are safe and hygienic, meet the increasing requirements of customers and bring peace of mind to consumers. Therefore, the Nam Phuong brand has affirmed its prestige and position in the domestic and international market.
ISO 22000: 2005 certification is a solid foundation for the company to continue to standardize its management system to improve product quality, expand its scale of operations and sustainability. At the same time, to improve the competitiveness in the market, to maintain the position and serve customers better and better.