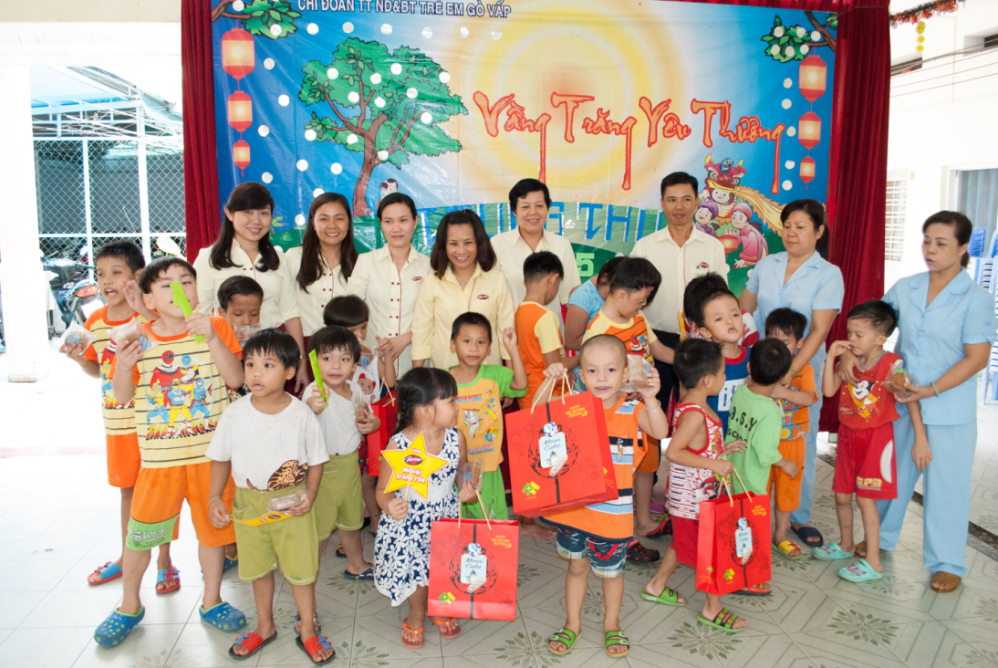 Mid-Autumn Festival has become one of the important holidays of the Vietnamese people. Mid-Autumn Festival is also an opportunity for showing parents' care and express love for their children, besides, the children are given lanterns, moon cake by parents, lantern parade with traditional 5-pointed star shaped lantern, and happy full moon festival… But for children with disabilities, orphaned, moon day spent to gather and play with family, is a big dream with kids.
For many years, all sectors, levels, unions, organizations, and communities have paid special attention to the children and provided them with care and education.  But the children's living conditions are still very difficult, need more support and help of the society.
To desire the children with disabilities, orphaned have the Mid-Autumn Festival meaningful and warmer mid-autumn season. Recently, Nam Phuong's board of directors has handed over moon gifts for 9 centers supporting children with disabilities and orphans and elderly alone in Cu Chi, Thu Duc, Binh Thanh and Go Vap districts. This is one of the community activities and is organized annually by Nam Phuong VN to share responsibility with the community and society.
The shelters, the shelter center for poor children, orphans, disabled and the elderly alone that Nam Phuong has visited the past:
The Board of Directors visited the children at the Rose House
The Board of Directors asked the children at the school to raise and protect Tam Binh children
The Board of Directors visits the caretakers of the children at Thien Duyen, Cu Chi
Prepare gift for the children
Tears have fallen, who care  nurture and protect them at the Tam Binh school
At Rose House – Tay Thanh, Cu Chi, with the children disadvantaged and disabilities, who politely, obediently, lovely
The Board of Directors enjoyed the children's entertainment
The children excited when trying the mooncake
There are situations that are too pitiful
I want to hold be cake by their hand as other children, but …
And wish them well – just that!
But do not hold back tears – moon cake cannot use!
And whatever the circumstances, their smile is always carefree, dashing like sunshine in the morning.
Your smile likes morning sunlight.
Happiness is simply a moment of concern for the people around.
Happiness is simple …
I also love technology.
Get in line to receive cake, children!
Joy when receiving gifts.
The children received gifts from the Board of Directors of Nam Phuong Company